November 30th, 13.00 – 17.30 at Hamnmagasinet, Västra Strandgatan 4, Umeå
The seminar was a part of the exhibition series REDRAW / REWRITE / RETOOL curated by RAKETT at Vita Kuben during the Autumn 2011 – Spring 2012.
The exhibition series was presented in four parts with works by Artur Żmijewski, Libia Castro and Ólafur Ólafsson, Ivor Shearer, Johan Tirén, and Chto Delat?.
The last part of REDRAW / REWRITE / RETOOL opened December 1st at 19.00 with works by Chto Delat? and Johan Tirén. In conjunction with this exhibition we invited to a half day seminar with contributions and presentations by invited artists: Johan Tirén, akcg(anna kindgren and carina gunnars), Chto Delat?/Dimitry Vilensky (through Skype) and Ivor Shearer.
Through following questions we opened up for discussions around Umeå's city development:
How do artists relate to the European Capital of Culture (ECC) 2014, and how do ECC 2014 relate to the artists? In what way can artists shape the urban space, and do they want to take part as a included, constructive force in politically governed urban developments, and not by ornamenting the already constructed public space with "Silent magnificent art objects" or with critical art that comments something already existing. How does such an approach relate to the how the artists sees itself as an actor of society?
The artist presentations were followed by a discussion relating some of these issues to the current questions regarding urban renewal in Umeå.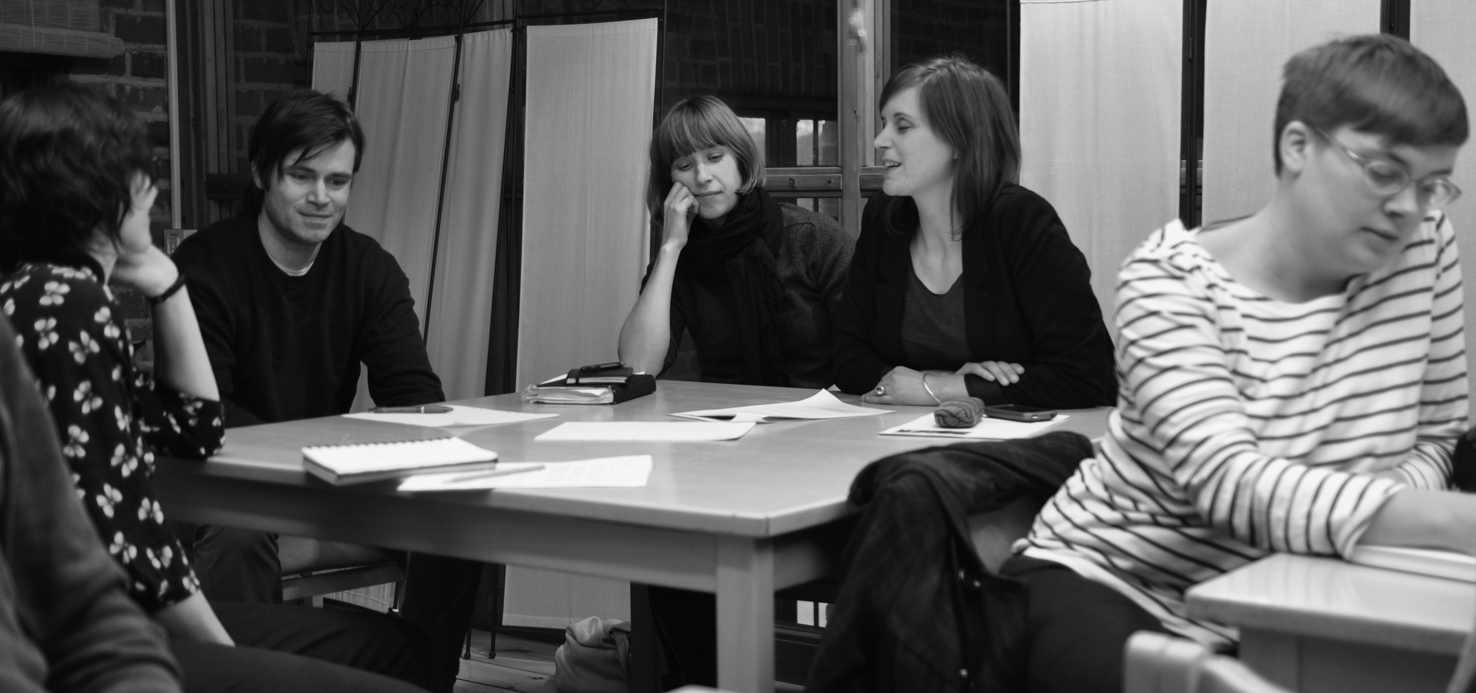 Program for the seminar
Introduction by Rakett/Åse Løvgren and Karolin Tampere
Artist Ivor Shearer presented his background for making the film Last Things that was screened at Vita Kuben earlier this autumn. It relates to a fictional post-Katrina situation in New Orleans. He looked into how the different levels of organization, both formal and informal, were kept or changed after the hurricane Katrina.
Chto Delat? / Olga Egorova /Dmitry Vilensky
Dmitry Vilensky from the artists and activists collective Chto Delat? participated through skype and presented the work of Chto delat?, how they are organized within the group and introduce their ongoing project in the north of Norway. As part of the talk he screened an excerpt of their video Tower Songspiel.
Screening of an excerpt from The Tower: A Songspiel, 2010 by Chto Delat? Filmed in April 2010, The Tower: A Songspiel is based on real documents of Russian social and political life and on an analysis of the conflict that has developed around the planned Okhta Center development in Petersburg. The Gazprom corporation intends to house the headquarters of its locally-based subsidiaries in a 403-meter-high skyscraper designed by the UK-based architectural firm RMJM. In the film voices are heard from different interest groups in St.Petersburg, workers, immigrants, urban planners, politicians, art professionals etc concerning this question regarding urban renewal. Also it shows the speech of a corrupt politician of how he sees the development as a great opportunity for the city. www.chtodelat.org. For the full film please see: http://vimeo.com/12130035
The artist duo akcg(anna kindgren and carina gunnars) presented their book agorafobi/ agorafobia/agoraphobia discussing public space and public sphere with both a Swedish and a Brasilian perspective. "There has been a large common space, which we thought was protected by laws. Many Swedes imagined for example the right to public access (Allemannsrätten) and shoreline protection (strandskyddet) were stronger than they have proven to be. When one has found oneself in THE COMMON, it has been framed by agreements and norms that were possible to discuss and criticize."
akcg will also present their most recent project Vägen hem which through sculptural and conceptual means relates to how we organize our societies. www.akcg.org
Johan Tirén presented his project Epilogues (Att dela ett samhälle) (2009) where he and a group of artists was part of a collaboration with the Office of Regional Planning in Stockholm. In what way could the artists take part in the process, and what possibilities and limitations are there within such a project? How to relate to the potential instrumentalization within this kind of collaboration? Tirén talked about the background for why the urban planning office started the project, and discussed how the competence of artists can be useful or meaningful in such processes. www.johantiren.com
Through visual and narrative endeavors REWRITE / REDRAW / RETOOL engages in questions concerning how conflicting interest groups negotiate their positions, within existing or fictional societies. Who are the creators of history, how are political strategies played out, and how are art and its institutions embedded in political structures? In the presented works meetings are played out between people and ideologies where conflicts of interests are set in motion to be discussed on arenas within or outside constitutional frameworks. A discursive program is part of the exhibition and consists of discussions, presentations, a seminar, film screenings and book launch.
REWRITE / REDRAW / RETOOL was supported by Norrlandsoperan and was party realized during Rakett residency period at iaspis, Umeå.