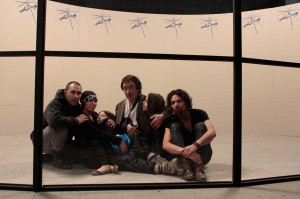 In Museum Songspiel: The Netherlands 20XX (2011) Chto Delat? (What is to be done?) employs a musical drama in which song is interspersed by spoken dialogue. Songspiel was used by Kurt Weill in collaboration with Bertholt Brecht in the beginning of the 20th century, a form which presents political and social concerns in accessible and often humorous ways. This songspiel which is set against the backdrop of the Dutch political scene in the year 20XX, tells the story of a group of immigrants fleeing deportation by the state authorities. The museum director discovers them one morning as they have sought safe haven inside the museum. A discussion follows where the self-proclaimed identity of the museum as progressive and a safeguard of free speech is put to the test. View Museum Songspiel: The Netherlands 20XX. The work is realized by Tsaplya (Olga Egorova), Nina Gasteva, Gluklya (Natalya Pershina-Yakimanskaya), Michail Ivanov and Dmitry Vilensky. The work is a co-production of the Van Abbemuseum, SMART Project Space and Chto Delat?

REWRITE / REDRAW / RETOOL was presented in four parts during the Autumn 2011-Spring 2012, with works by Artur Żmijewski, Libia Castro and Ólafur Ólafsson, Ivor Shearer, Johan Tirén and Chto Delat?. The exhibition series was curated by Rakett on invitation by Vita Kuben exhibitionspace at Norrlandsoperan in Umeå.
Through visual and narrative endeavors REWRITE / REDRAW / RETOOL engages in questions concerning how conflicting interest groups negotiate their positions, within existing or fictional societies. Who are the creators of history, how are political strategies played out, and how are art and its institutions embedded in political structures? In the presented works meetings are played out between people and ideologies where conflicts of interests are set in motion to be discussed on arenas within or outside constitutional frameworks. A discursive program is part of the exhibition and consists of discussions, presentations, a seminar, film screenings and book launch.
REWRITE / REDRAW / RETOOL is supported by Norrlandsoperaen, Umeå and iaspis.