The workshop Voyage to the North Sea was composed on invitation by Director of Le Pavillion Ange Leccia and Tristan Bera as part of WORKSHOP NORWAY – OVEREXPOSURE 17- 27 june 2012. In June 2012, the members 2011/12 of Pavillon experienced a strictly choreographed trip to Norway. The itinerary brought them to Kirkenes and Bergen. And in between the two cities they appropriated the cruise ship Nordnorge to become their five-day-lasting summerhouse.  A score is a score is a score. The 24h daylight impressions of Norway will be collected in a fanzine as appendix for Palais de Tokyo magazine. The fanzine is written in form of scores, diagrams, maps and instructions alongside the fellow travellers and acquaintances made during the journey.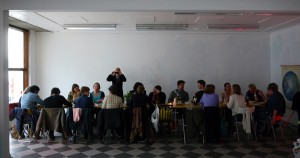 Voyage to the North Sea participants:
Gunvor Bakke Kvinlog, Hilde Jørgensen, Kristin Tårnesvik, Maya Økland, Sveinung Rudjord Unneland, Randi Grov Berger, Hector Pina-Barrios, Anja Ulseth, Heidi Nicolaisen, Laetitia Badaut Haussmann, Oliver Beer, Fouad Bouchoucha, Egle Budvytyte, Egija Inzule, Hélène Meisel, Noé Soulier and Oriol Vilanova. Please scroll down to read the short bio´s.
The letter of invitation to the participants of Voyage to the North Sea:
Welcome to a two-day workshop in Bergen. The main aim of the workshop is to exchange knowledge and experiences around our artistic practice, both through discussions, meals, excursions, lectures and visits to museums. The focus of the days are loosely defined around experiences from the sea. During the workshop we will discuss thoughts, ideas and maybe also produce material for a fanzine that will be published in the Autumn. But the focus of the workshop is not on the fanzine as a final result, more to see this as a vehicle for discussions and exchanges.
To start off we would like you all to formulate one or several questions that will form a question pool. This will be used as a base material to discuss and to grow ideas from. The questions can be concrete, abstract or philosophical, but should somehow relate to the following words:
The sea – voyage – expedition – transport – sea vessel (boats, ships, rafts etc)-ecology – tourism
We would also like you to bring material relating to this in the form of images, stories, books, preferably things you can cut in and re-use as source material.
Below are some quotes from thinkers, writers and artists that in different ways have connected to the sea. Please bring more to the workshop!
From Allan Sekula´s Fish Story:
'In the past, harbor residents were deluded by their senses into thinking that a global economy could be seen and heard and smelled. The wealth of nations would slide by in the channel. One learned a biased national physiognomy of vessels: Norwegian ships are neat and Greek ships are grimy. Things are more confused now. A scratchy recording of the Norwegian national anthem blares out from a loudspeaker at the Sailors´Church on the bluff above the channel. The container ship being greeted flies a Bahamian flag of convenience. It was built by Koreans laboring long hours in the giant shipyards of Ulsan. The crew, underpaid and overworked, could be Honduran or Filipino. Only the captain hears a familiar melody.'

The Forgotten Space, a film Essay by Allan Sekula and Noël Burch (introduction)
'Brothels and colonies are two extreme types of heterotopia, and if we think, after all, that the boat is a floating piece of space, a place without a place, that exists by itself, that is closed in on itself and at the same time is given over to the infinity of the sea and that, from port to port, from tack to tack, from brothel to brothel, it goes as far as the colonies in search of the most precious treasures they conceal in their gardens, you will understand why the boat has not only been for our civilization, from the sixteenth century until the present, the great instrument of economic development (I have not been speaking of that today), but has been simultaneously the greatest reserve of the imagination. The ship is the heterotopia par excellence. In civilizations without boats, dreams dry up, espionage takes the place of adventure, and the police take the place of pirates.'
Michel Foucault. Of Other Spaces (1967), Heterotopias
"How old was I when you first took me in a boat?"
"Five and you nearly were killed when I brought the fish in too green and he nearly tore the boat to pieces. Can you remember?"
"I can remember the tail slapping and banging and the thwart breaking and the noise of the clubbing. I can remember you throwing me into the bow where the wet coiled lines were and feeling the whole boat shiver and the noise of you clubbing him like chopping a tree down and the sweet blood smell all over me."
"Can you really remember that or did I just tell it to you?"
"I remember everything from when we first went together."
The Old Man and the Sea, Ernest Hemingway

Voyage on the North Sea, Marcel Broodthaers

Desireless: Voyage Voyage , 1986
Short biographies of all participants:
Laetitia Badaut Haussmann (FR)
Born in 1980. Lives and works in Paris. After graduating from the Ecole nationale supérieure d'arts of Cergy in 2006, Laetitia Badaut Haussmann took part in the "La Force de l'Art" that same year. From Stockholm to the Equator by way of Brussels and Berlin, her work has been the subject of many exhibitions in Europe and elsewhere in the world. In Paris, she took part in the 55th Salon de Montrouge and the 2010 exhibition "Dynasty" at the Palais de Tokyo and the Musée d'Art moderne de la Ville de Paris/ARC. Laetitia Badaut Haussmann's practice includes several fields and is fragmented. With the help of sculpture, video, photography, and text, she produces stories, fictional or documentary, private or holistic, in a movement that brings together macrocosm and microcosm, through an interplay of correspondences and references.
Oliver Beer (UK)
Born in 1985. Lives and works in London. A graduate of the Ruskin School of Drawing and Fine Art (Oxford University) and the Academy of Contemporary Music, Oliver Beer was the winner of the Saatchi Gallery's New Sensations prize in London in 2009. Since 2007, Oliver Beer has been experimenting with the interaction of space and the living world, of architecture and sound, with The Resonance Project. The human voice is used to stimulate architectural structures that resonate thanks to the vibrations of the voices, transforming the places into musical instruments. Oliver Beer's practice is at the intersection
of performance, sound installation, video and concert, questioning his surroundings in an original way.
Fouad Bouchoucha (FR)
Born in 1981 in Marseille. Lives and works in Marseille and Lyon. Fouad Bouchoucha graduated from the Ecole supérieure des beaux-arts of Marseille in 2007, and founded the independent label "Le saut du tigre" in 2005. In 2009, he was the winner of the Lausanne Jardin competition for integration and sound composition, and has taken part in several exhibitions, specifically in Marseille and Geneva. In 2010, he attended the postgraduate course at the Ecole nationale de beaux-arts of Lyon. At the intersection of music and the visual arts, Fouad Bouchoucha's work is "a free-fall descent into the interior of forms and sounds". His world
mingles Daft Punk, the poems of Heiner Muller, DJ work, tuned cars, and cognitive music.
Egle Budvytyte (LT)
Born in 1982 in Lithuania. Lives and works in Vilnius and Amsterdam. A graduate in photography from the Vilnius Art Academy and in audio-visual studies from the Gerrit Rietveld Academy
in Amsterdam, Egle Budvytyte obtained a master's degree at the Piet Zwart Institute in Rotterdam in 2008. Her work has been presented at several art centers in Europe and elsewhere in the world, in particular the Museu de Arte Moderna in Sao Paulo, the CAC in Vilnius, the Swiss Institute in New York and the TENT in Rotterdam. Her practice is defined through a variety of mediums, video, radio broadcast, or performance, and also explores a certain relationship to the environment. Egle Budvytyte questions the sensitivity and consciousness of what surrounds us through semiconstructed, semi-improvised situations, between fiction and reality, staged scenario and documentary. The artist dissolves the boundaries between the imaginary and the real in order to analyze the social construction of identity and its relationship to the real.
Egija Inzule (LV)
Born in 1986 in Riga. Lives and works in Zurich and Riga. With a degree in art history and philosophy from the University of Leipzig, and another in art theory from Zurich University, Egija Inzule is an exhibition curator, and co-editor of the magazine Provence. Since 2006 she has participated in numerous exhibition projects, particularly in Zurich and Basel, but also in Riga and Tbilisi. As a curator, her approach is not confined to selecting works, but takes the form of intense collaborations with artists and guest curators. Her programs, with no obvious tension or hierarchy, take in performances and readings, books and discussions, public debates and visual works. Egija Inzule devises "situations" involving exchange, and dialogues
between artists and theorists, paying spécial attention to the social construction of the forms of thought and visibility of art. She is particularly interested in the visibility of art through text and published works, whether catalogues, artists' books, or reports on exhibitions.
Hélène Meisel (FR)
Born in 1986 in Paris. Lives and works in Paris. Studying for a doctorate in art history, and with a master's degree in "Contemporary art and how it is exhibited" from the Sorbonne, Hélène Meisel is an art historian and critic. She was awarded a study bursary by the Centre Pompidou.
Her activity as an art critic goes hand in hand with freelance work as an exhibition curator; she also collaborates on journals, in particular 20/27.
Noé Soulier (FR)
Born in 1987 in Paris. Lives and works in Paris. After training as a dancer at the Conservatoire national supérieur de musique et de danse in Paris and Canada's National Ballet School, Noé Soulier successfully completed the PARTS research cycle in Brussels in 2010. In parallel he took a bachelor's degree in philosophy from the University of Nanterre and a master's degree at the Sorbonne, and studied the harpsichord. His work has been presented at the Spring Dance Festival in Utrecht, the Centre Pompidou in Paris, and the Beursschouwburg in Brussels. In 2010 he won first prize at the Danse élargie competition, organized by the Théàtre de la Ville in Paris and the Rennes Museum of Dance, with the piece Little Perceptions.
Oriol Vilanova (ES)
Born in 1980 in Barcelona. Lives and works in Barcelona.
A graduate in architecture and philosophy of the University of Barcelona, Oriol Vilanova has taken part in several exhibitions in Spain and elsewhere in the world since 2006. To be specific, he has presented his work in Madrid and Barcelona, Paris, Milan and London. His practice can take a variety of forms, lying at the interface between performance, documentation and publication, but always having a literary and romantic dimension.
Gunvor Bakke Kvinlog received a master degree in architecture at Bergen School of Architecture in 2011 with the diploma project sNOw PLACE. sNOw PLACE investigated and commented on the architectural, demographic, social and infrastructural consequences of the recent explosion of leisure homes in rural Norway. Before this she studied philosophy at the University of Oslo and art at Nordland Art and Film School. She is recently employed as a teacher in 3rd year at
Bergen School of Architecture and as a receptionist at Bergen Kunsthall. From September she will be co-teaching a master course at Bergen School of Architecture with the aim of producing a publication on Norwegian Urbanism.
Hilde Jørgensen (b. Norway 1973) is an artist and curator.
In her work the main interest goes into the describing of social reality and the understanding of the structures in society. Photography, text and video is her main tools to her projects. Hilde Jørgensen has participated in exhibitions both in Norway and foreign countries such as Visningsrommet USF, Gallery Kjub, Cologne, Festspillene i Nord-Norge and others. As a curator Hilde Jørgensen is currently working on the art series Nordic Art Express. and in 2010 she founded the gallery KNIPSU in cooperation with Maya Økland where they also organize seminars, workshops and events.
Kristin Tårnesvik
Educated at the National College of Art in Bergen, where she lives and works. Kristin Tårnesvik has a long-term exploration of identity and belonging, and the area of investigation changes from geography to political ideology. She reflects on the reciprocity between destruction and revolution, vision and utopia, and on the insignificance of the acts of the individual within a political and economical system. Kristin Tårnesvik runs gallery KNIPSU in cooperation with Hilde Jørgensen and Maya Økland. She also produced Sami Art festival, 2008-2011, in cooporation with Hilde Methi.
Maya Økland was born in Bergen, Norway 1980, and grew up in Sweden with a Brazilian mother and a Norwegian/Icelandic father. In 2006 Økland participated in the group exhibitions like New Nordic Photography at the Hasselblad Center in Sweden and in 2011 Stories, in between at Gallery 3,14. She had solo shows in Arendal Kunstforening, Norway and kjubh Kunstverein, Cologne in 2008. Her works was published in the Norwegian anthology The Meaning of Sex in 2007, and she realized a two month OCA residency at KunstWerke, Berlin in 2009. In 2010 Okland
was project coordinator and participant of the workshop Shaping Time in an EEA collaboration with the Filmschool in Lodz, Poland. www.shapingtime.eu. She received her Diploma in photography from the Bergen National Academy of the Arts in 2005, and was a photographer assistant in the photo archive of the Varberg Museum in Sweden 1999. She is also involved in, and a founding member of the artist-run gallery KNIPSU since 2010. Økland lives and works in Bergen, Norway. Please look at for works and full bio at www.mokland.no
Sveinung Rudjord Unneland often transform exhibition spaces with his installations, creating paradoxical spaces often including paintings and sculpture. He has exhibited in numerous group exhibitions such as the outdoor exhibition "Tempo Skien 2008", "BGO1", Bergen Art Museum, 2010 and with Lautom Contemporary, 2011. When the opportunity presents itself he initiates productive collaborative projects with artist colleagues. His solo exhibitions have been "Palinca Pastorale", Hordaland Art Centre, Bergen and "Hunting for black swans and other birds", LNM, Oslo in 2010 as well as "U.T.", Entrée, Bergen, 2011 and "Towards a fundamental geometry", ØKS, Fredrikstad, 2012. Unneland also works with set design for theatre and collaborates with the pop band Casiokids. The notion of stage and staging is important to his works, as well as collaboration. He graduated from the Bergen Academy of Art and Design in 2007. Unneland is born in 1981 and lives and works in Bergen.
Hey, my name is Randi Grov Berger and I´m running an exhibition space called Entrée in Bergen. Entrée is an artist-run and non-commercial space promoting young contemporary art by international artists. I recently finished curatorial studies at the art academy in Bergen, but my background is as an artist with a Master in Art in The Public Realm at Konstfack, Stockholm. Entreebergen.no
Hector Pina-Barrios is architect based in Bergen, Norway. He obtained a Master of Architecture at the Bergen School of Architecture in 2009 after earlier studies from Venezuela, where he was born. His graduate project dealt with the way contemporary art and culture are used as socio-political instruments in processes of urban or city development. His study case was the city of Bergen. He has also worked with analysis and development of spatial strategies in different sites and scales within the fields of architecture and urbanism. In Norway, he have worked with a variety of issues such as the shrinking of villages, urban densification and the creation of public spaces for interaction between diverse ethnical and social groups. He was a member of the artist collective Bergen Atelier Group (BAG) until the fall of 2011.Currently he works as teacher in the 2nd year of the foundation Program at the Bergen School of Architecture (BAS) and has also collaborated in various projects and workshops within the field of visual arts.
For the last years Anja Ulseth has been working with different ways to reach the audience, outside of the traditional gallery space. With the use of books, fanzines, films, mail art, and a model that she built of Bergen Kunsthall, she finds her own ways to show her art. She has done many collaborations with other artists and writers, and the use of language is important in her work. Anja is interested in investigating in what gives art value. This has been important in her recent work, the publication Bergen Art Guide, a guide of imaginary art pieces, with photographs that resemble works of iconic artists. She often uses simple
elements in her projects, sometimes found ones, like a sentence in a book, found
photographs, films, objects, drawings, and the result might be both existential and
humoristic at the same time.
Heidi Nicolaisen was born 1973 in Bodø, Norway. She studied History and Art History at the University in Oslo, before she did a BA (2000) and MA (2002) in Photography at the Bergen Academy of Arts. Her artist practice is based in Bergen at the studio collective Flaggfabrikken. Nikolaisen also works as an Assistant Professor at Bergen Academy of Arts.
Heidi Nikolaisen's work often takes the form of experimental expeditions, which look into personal histories as an opposition to the construction of recorded history. Heidi Nikolaisen has worked with commissioned art projects for the Trondheim Municipality, Øksnes Municipality and Bergen Municipality in Norway. She has done residencies in Paris, New York and Berlin, and has exhibited in the Northern Norwegian Art Centre, Gallery Huuto, Helsinki, The Bergen Art Museum, Riso Contemporary Art Museum, Italy, Gallery KJUBH, Cologne, and she participated at the AiM biennale in Morrocco in 2009.