Panel discussion proposed by Rakett and Hélenè Meisel for the launch of the Pavillion Fanzine: A COLLECTION OF SCORES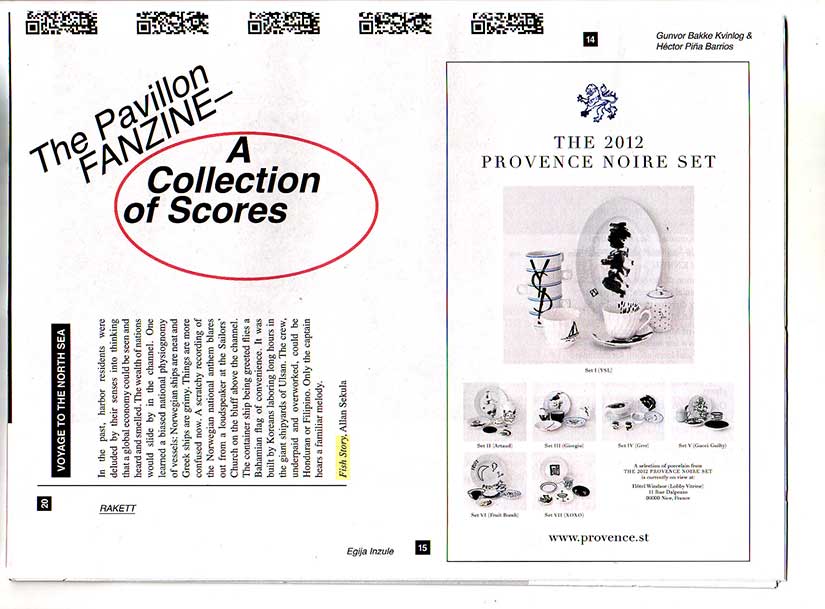 Front page of The Pavillon Fanzine A Collection of Scores (2012)
Front page of The Pavillon Fanzine A Collection of Scores (2012)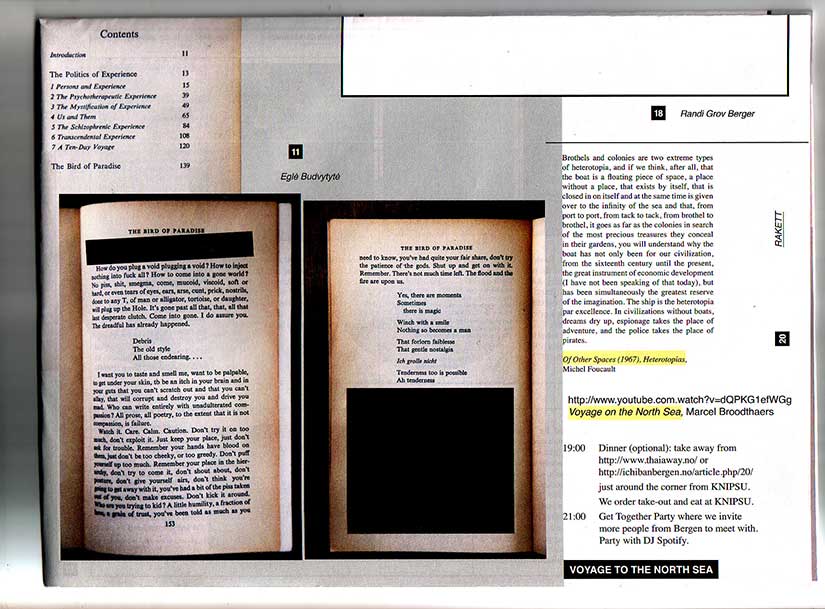 Detail from The Pavillon Fanzine A Collection of Scores (2012)
Detail from The Pavillon Fanzine A Collection of Scores (2012)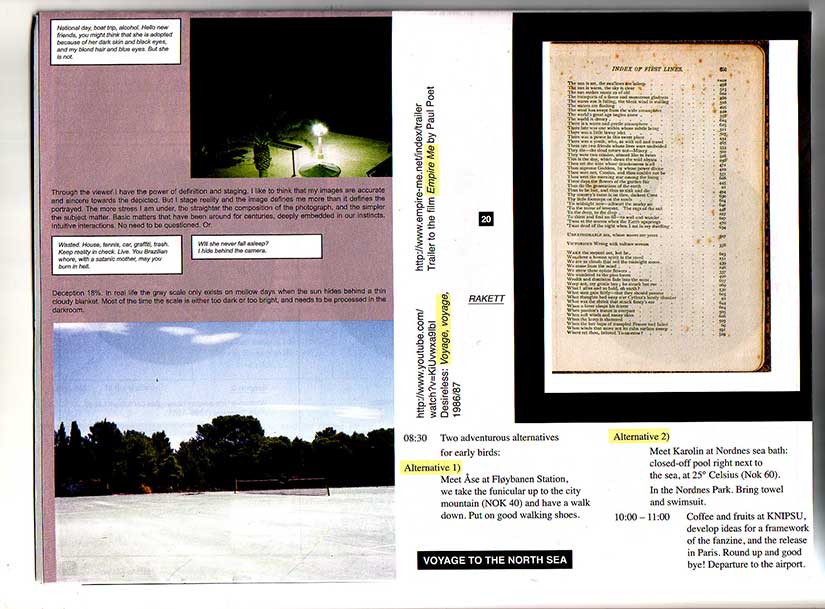 Last page of The Pavillon Fanzine A Collection of Scores (2012)
Last page of The Pavillon Fanzine A Collection of Scores (2012)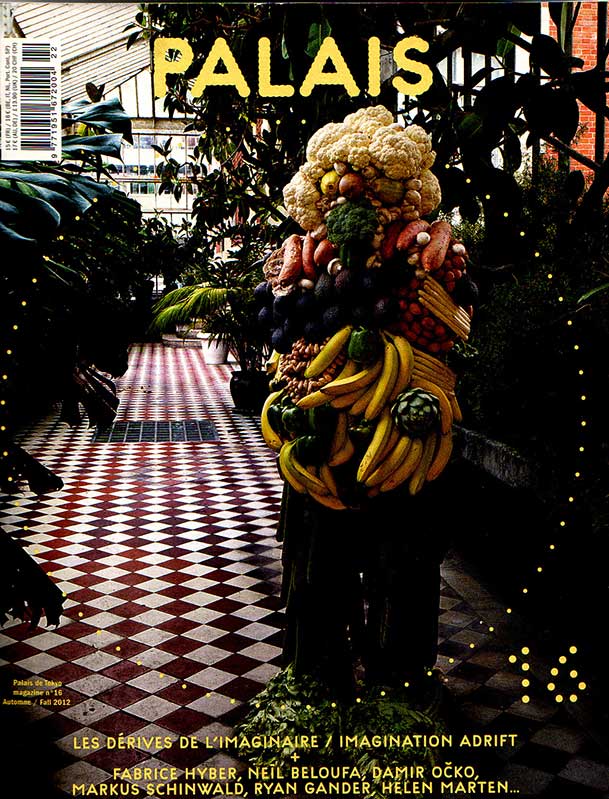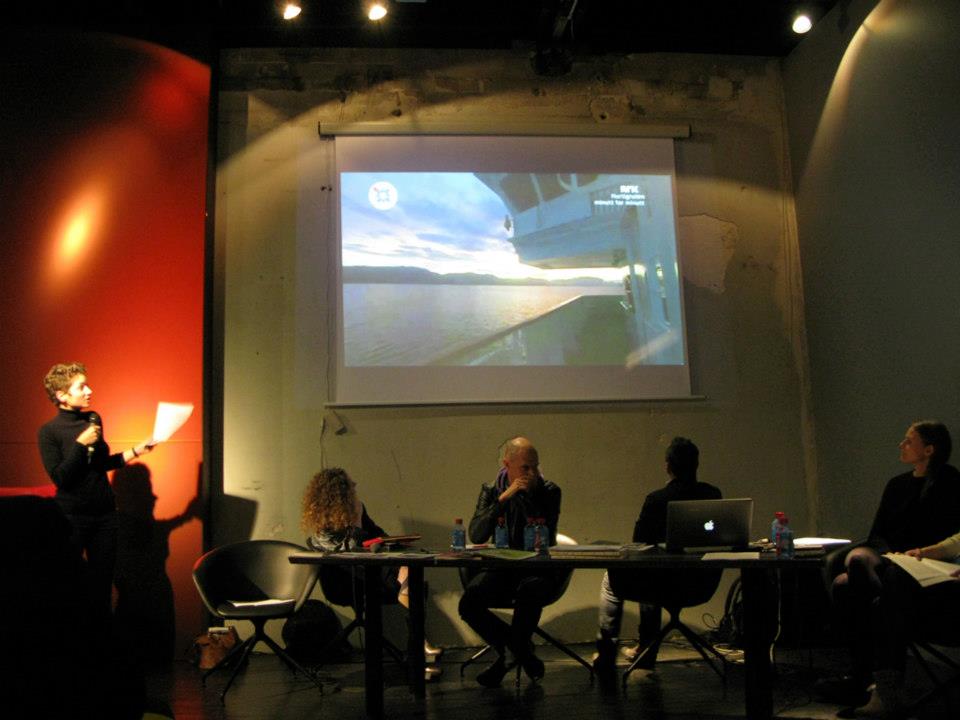 Panel discussion "Radical Organisation" at Palais de Tokyo, 2012.
Panel discussion "Radical Organisation" at Palais de Tokyo, 2012.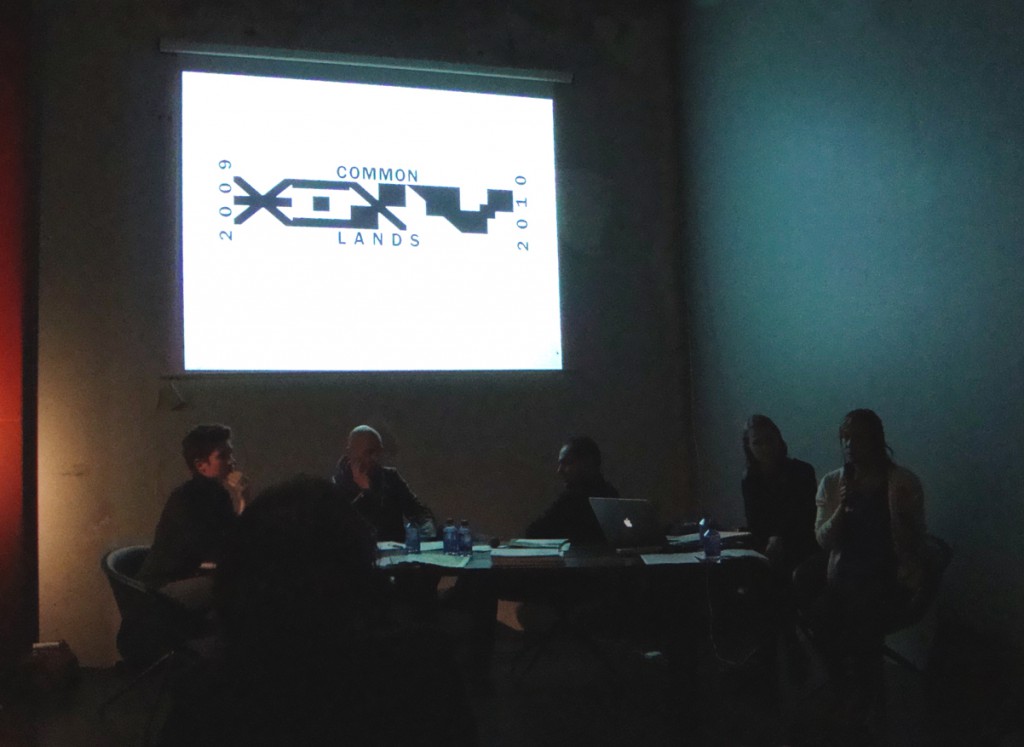 Panel discussion "Radical Organisation" at Palais de Tokyo, 2012.
Panel discussion "Radical Organisation" at Palais de Tokyo, 2012.

Making radical space is about developing spaces that denaturalize the norms of the dominant culture and provide for new ways to build community, social relations, and the production of art.
Brett Bloom
Driven by the observation of French and Norwegian contexts, this panel proposes to expand to other horizons its survey about alternative structures of art, born of the hybridization of different models: production units attached to or detached from the institution, «curatorial offices» or curators collectives, editions agencies, mobile residencies, spontaneous archives, etc. Flexible and responsive, these organizations foster collaboration and interdisciplinarity. Accustomed to economic adjustment, they make good use of emergency. How do these platforms work, whose sustainability relies on "exibility, pragmatism and often precariousness? How are they initiated and what do they think about production ?
Guillaume Désanges is a free-lance curator and art critic, director of Work Method, a Paris based agency for artistic projects. Through this entity, he develops projects in partnership with institutions. In 2009, he produced for example Child's Play, a workshop and exhibition based on performance and body art and developed with eight year old Romanian children. In 2010 and 2011, he curated «PARADE, Artworks from the Regional Contemporary Art Collection of Île-de-France on the regional roads », an experimental project of a travelling exhibition. Through a nomadic device and a regional route, PARADE questions the accessibility and the popularity of contemporary art in suburban contexts. www.guillaumedesanges.com
Stefan Shankland is an artist, living and working in Ivry-sur-Seine and Berlin. He recently contributed to the collective conception of MAC/SAN – Museum for contemporary art speci!c to San Augustin's context, in the western suburb of Havana: the prototype of an adaptable institution, challenging the forms that contemporary art can take in complex urban situations. The MAC/SAN was activated in May 2012 during the Biennial of Havana. MAC/SAN project extends the repair work begun by the artist in France with the project TRANS305. www.stefanshankland.com / www.trans305.org
Luba Kuzovnikova is artistic director of Pikene på Broen, a company of curators and art producers based in Kirkenes (Norway). Dealing with identity/ cultural and national/transnational/global issues, Pikene regards the whole Barents region as its «Space» and as a metaphor to investigate the world around. What is Pikene på Broen's opinion about instrumentalisation in an area with many strong political and economic interests at play? Some projects will be presented, like the annual festival «BARENTS SPEKTAKEL», the seminar «VISIONARY ARCTIC» or «PAN-BARENTZ». www.pikene.no / www.barentsspektakel.no
Hélenè Meisel is an art historian and critic. She was resident at the Pavillon in 2012.
The Pavillon Fanzine A Collection of Scores has been directed by Egija Inzule as a result of the journey in Norway of the Pavillon. It presents the contributions of the residents 2011-2012 of The Pavillon: Laëtitia Badaut Haussmann, Oliver Beer, Fouad Bouchoucha, Eglé Budvytyté, Onejoon Che, Anthea Hamilton, Egija Inzule, Hélene Meisel, Noé Soulier, Oriol Vilanova in collaboration with Gunvor Bakke Kvinlog, Hilde Jørgensen, Kristin Tårnesvik, Maya Økland, Randi Grov Berger, Hector Pina-Barrios, Anja Ulset and Rakett. It is part of the issue#16 of the magazine PALAIS.
Supported by The Royal Embassy of Norway in Paris, OCA – The Office for Contemporary Art Norway and the Municipality of Bergen.