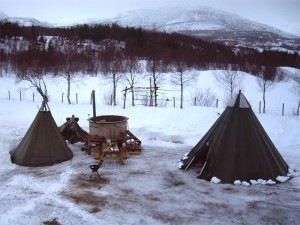 After many requests and invitations from eager movie-fans, Rakett decided to make a follow-up to our outdoor cinema Kjørinn Kino from 2005 in the village of Sørfinnset in Northern Norway. This time we initiated the Stamp-Inn Kino which is not translatable at this point, but could mean something like a 'Bathtub-Inn Cinema'. Stamp is a huge wooden bathtub filled with water and heated by a wooden stove, where you can fit several people. In the one that we used for this occasion, there was room for approximately nine people at the same time.
Outside of the school building where the project Sørfinnset Skole/the nord land is located, we installed the outdoor bathtub, two Lavvo's and the 'Hikki' – a tent sauna made by the artist Per Enoksson. From these different viewing points one could watch the program consisting of artist videos and feature films. All films were introduced through a live broadcasting on FM 103Mhz from the film booth by Rakett.
Geir Tore Holm and Søssa Jørgensen of Sørfinnset skole/the nord land was during the daytime organizing the Saturday Café. This time with the theme 'Talking About the Weather'. Topics that where touched upon was the future perspectives of weather conditions in the region and the concept of extreme-weather. Traditional weather-signs were presented by Elsa Norum.
In between the films we served YaYar´s homemade Tom Yum Kum – a hot Thai Soup with salmon from the region.
An excerpt from the program:
Videos:
Moscow by Mai Hofstad Gunnes,
www.menwithoutqualities.com by Arne Vinnem
Adrift by Inger Lise Hansen
Feature film:
The Adventures of Iron Pussy by Apichatpong Weerasethakul
More about Kjør-inn-Kino 2005 and Ski-Inn Kino 2009.
Stamp-Inn Kino was made possible with great help from the cinema's co-organizers:
Yayar: thai-chef making incredible soup that was served during the night
Kenneth: organizer of all small and big details
Aage: responsible for removing of snow
Ronald: providing lavvo, reindeer fur-seating arrangements, food and drinks
Einar and Jorunn: Skiing-heroes and ladder-providers
Reidar: crucial sound-work and technical support
Stefan Mitterer, consultant, screen-work and DJ
Eva: cafe-work and positive input
Per Roald: fire-keeper, thermometer and wooden bathtub professional
With support from the Municipality of Bergen, Sørfinnset skole/the nord land and GIFAS.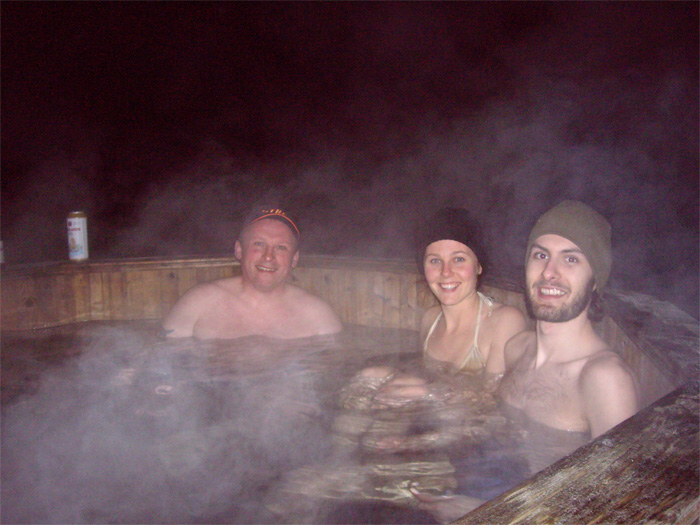 Stamp-Inn-Kino was held 18. february, 2007