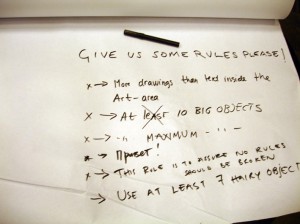 An Everyday Improvement
Part of Translation, Kirkenes, 2006.
A co-operation between the artists Amos Taylor (uk), Marius Martinussen (no), Dimitriy Novitskiy (ru) and Evgeniy Shnaider (ru). This was a part of the group exhibition Translation and was an project in process during the Barents Spektakel festival. An Everyday Improvement, changed from day to day whilst occupying the entrance hall of the public library in Kirkenes. This became the exhibition space as a stage for the co-operation between our invited artists. During one week, the four artists negotiated and worked in this hall to in the end conclude it with a common denominator: everything was covered with brown tape. Translation, curated by Siri Austeen, included works and ongoing projects from 20 artists from the Barents region, Europa and USA and had a focus on borders, identity, language and exchange across cultures, segments and beliefs. The exhibition relates to art's interpretation and transformation within the cultural, economical, linguistic or political field.