Rakett participated in Survival Kit curated by Solvita Krese and organised by Latvian Centre for Contemporary Art.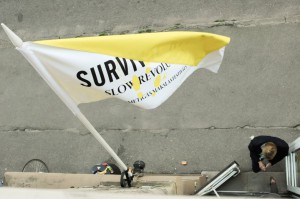 In the presentation Rakett introduced several projects that in different ways discuss and investigate the right to the city, shrinking of our commons and the distribution and exercise of power. What are the commons and what is at stake? How do artists and cultural producers relate to these issues, how do they contemplate and act upon it inside the infrastucture of art, inside or outside institutions?
The exhibition project REDRAW / REWRITE / RETOOL included an exhibition in four parts, talks, a book launch and a seminar set in the Swedish city of Umeå. It included participation by artists Artur Zmijewski, Libia Castro and Ólafur Ólafsson, Johan Tirén, Ivor Shearer and Chto Delat? and akcg(anna kindgren and carina gunnars), and was curated by Rakett (Åse Løvgren and Karolin Tampere).
Through videos and installation the artworks engaged in questions of how conflicting interest groups negotiate their positions, within existing or fictional societies, on arenas outside of as well as within constitutional frameworks. For the seminar at Survival Kit 5 Åse Løvgren will present some of the artworks and also talk about how the project related to the current political issues that was at stake in Umeå at the time.
About Survival Kit 2013
With the strength gained from the peripheries, slow revolution is overturning positions of power and questioning the dominance of the centre. Evolving from the needs of individuals and neglecting hierarchy, the new strategy of survival in the present day is reflected by a variety of artists in the 5th International Contemporary Art Festival Survival Kit 5: Slow Revolution. The festival, produced by the Latvian Centre for Contemporary Art, challenges the individual to pursue its desires.
The world is still in the midst of rapid changes—political systems and maps, as well as the balance of economic power is altering. Meanwhile, the activity in mass community is increasing, stimulating a wave of protest against the forces in control. Registering the world's "hot" spots, one may look back on the Arab Spring and the Occupy Wall Street actions in New York, which developed into a global movement within a surprisingly short period, reverberating also in Greece, Spain, Israel, Turkey and other countries. The protest actions in Russia against Putin's regime cannot go unmentioned among them.
No longer are these events carried out by a handful of "leftist" intellectuals or activists, the protest actions are led by a massive and all-embracing movement, which continues to grow, creating a dominant mood in a significant part of the community. The slow revolution does not have any national borders or leaders, nor does it have a political programme. The main demand is to change the existing system. What is the possible alternative? Has the tradition of criticism come to a kind of dead-end, criticising the existing situation, but being unable to provide a clear vision for the future, a new utopia?
In the framework of the festival, the symposium "Slow Revolution. Art and Culture in the Institutional and Territorial Peripheries" will also take place. During workshops, a seminar and other activities artists, activists, curators and local citizens will seek the answer to the question—in the period of increased civil activity, what can be done from the marginal position?
Survival Kit is conceived and produced by the Latvian Centre for Contemporary Art, which is an internationally active non-governmental culture organization that offers an independent perspective on current topics and recent historical events through the looking glass of art. "Survival Kit" is a reoccurring art festival that has been organized since 2009, when it began as a reaction to the global economic crisis, forcing the public to find new strategies of survival and encouraging artists to define fresh methods of existence. "Survival Kit" is curated by Solvita Krese, the director of LCCA. It will be a significant event in the European Capital of Culture program in Riga in 2014.
Funding for "Survival Kit" is provided by the Culture Capital Foundation of Latvia, Ministry of Culture of the Republic of Latvia, Riga City Council, Foundation "Riga 2014" and Nordic Culture Point.
Revolution as a collective activity usually occurs in a peripheral zone – territorial, ideological, economic or political – and aims at  fundamentally changing the system dictated by the dominant force that is incapable or disinterested in securing public needs. Often, small gestures, interventions in the public space, partisan strategies, and involvement of inhabitants turn into strong impulses that can cause  quite a significant change.
What can an artist, arts organizations and neighbourhood residents existing in the periphery of power do in this era of flourishing civic engagement? What kind of 'arms' and tools can be used? What do we want to change in the current situation?
The list of contributing artists in the exhibition included Ane Hjort Guttu (NO), Anda Lace (LV), Ernests Klavins (LV), Eva Vevere (LV), FASTWÜRMS (CA), Francisco Camacho (CO/NL), Gabriel Lester (NL), Gundega Evelone (LV), Harun Farocki (DE), Ieva Kaula (LV), Ingrida Picukane (LV), Ivar Veermae (EE), Ivars Drulle (LV), Johanna Billing (SE), Kanslibyrån (John Huntington & Per-Arne Sträng) (SE), Kate Krolle (LV), Karlis Vitols (LV), Klavs Upaciers (LV), Kriss Salmanis (LV), Laura Kenins (LV), Laura Prikule (LV), Leonards Laganovskis (LV), Liene Mackus (LV), Matthieu Laurette (FR), Martins Zutis (LV), Maija Mackus (LV), Minna L. Henriksson (FI), Nicoline van Harshkamp (NL), Nina Kurtela (DE/HR), Oliver Ressler (AT), creative group "Orbita" (LV), Sasha Kurmaz (UA), Sebastian Mugge (SE), The Yes Men (US), Vilnis Putrams (LV) and Vladimirs Jakusonoks (LV).
The contribution by Rakett was supported by OCA – Office for Contemporary Art Norway.