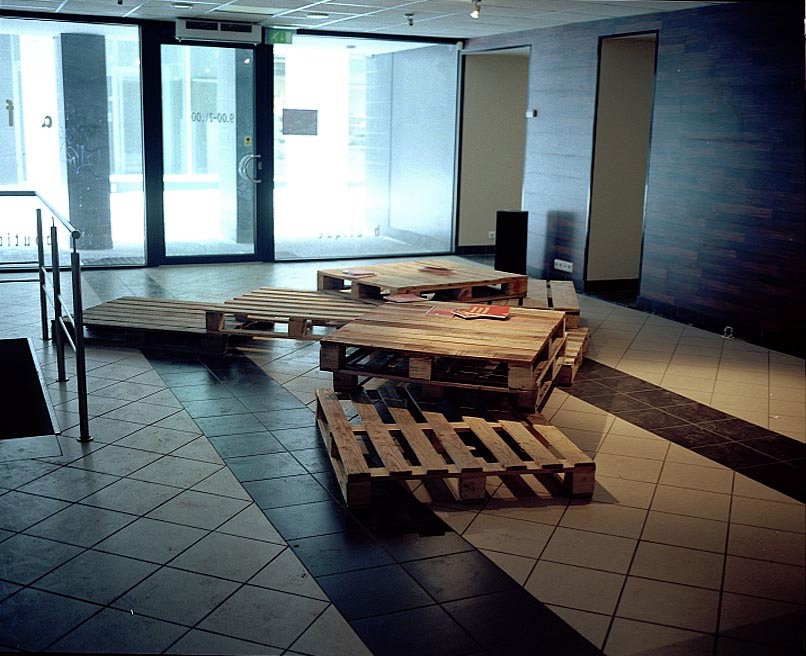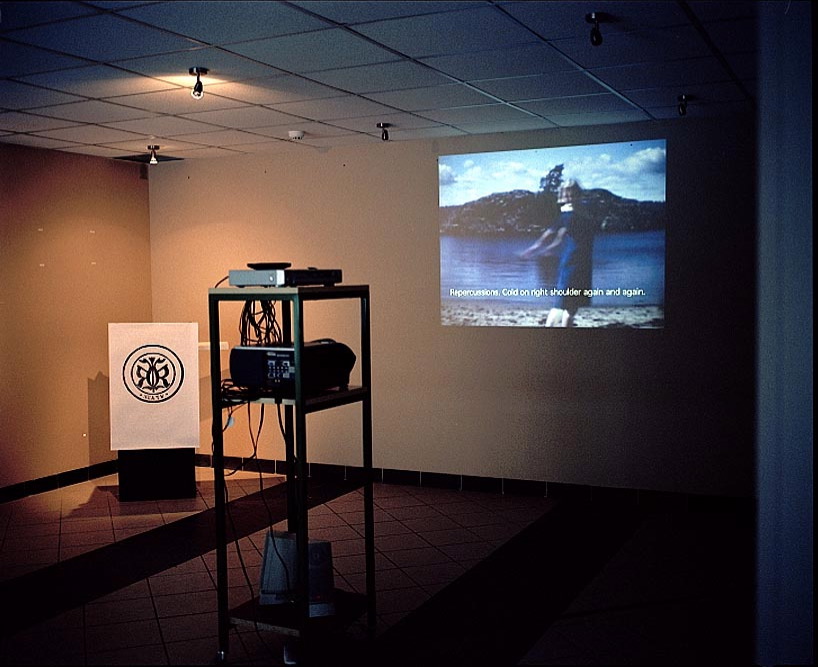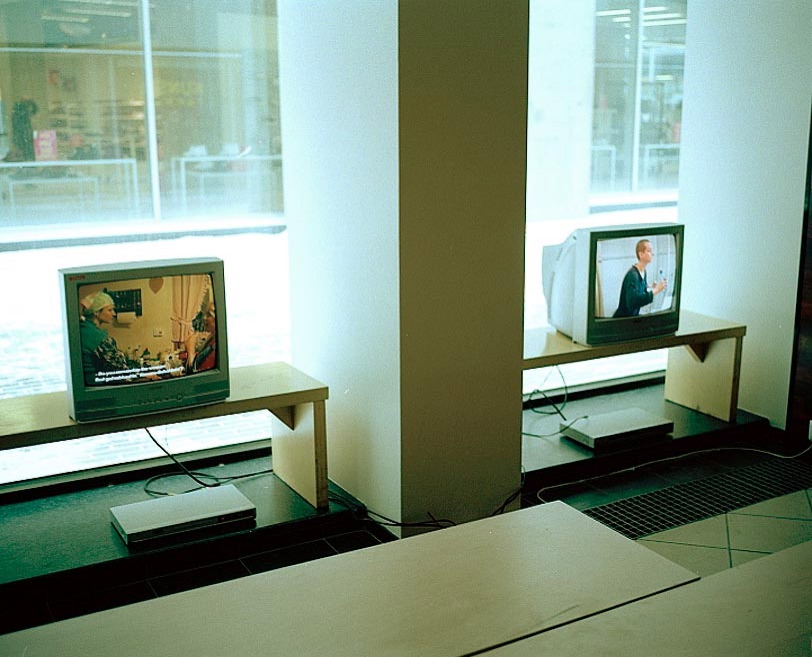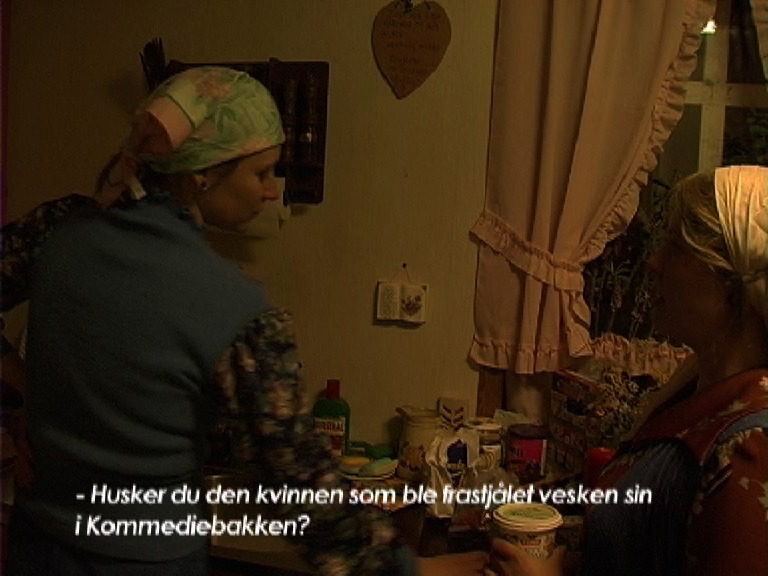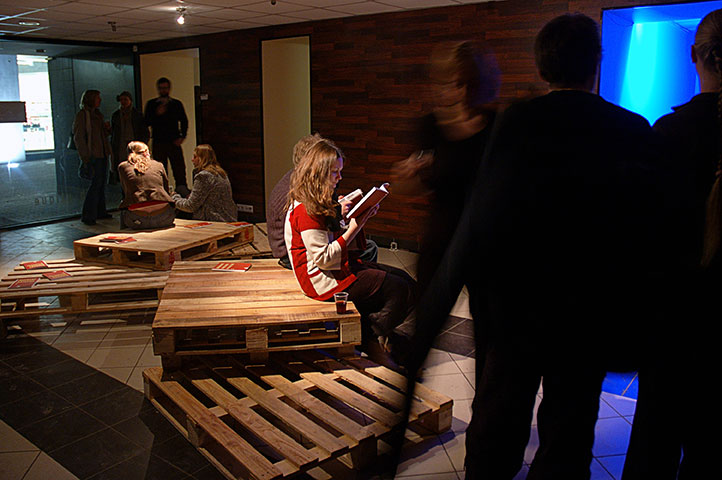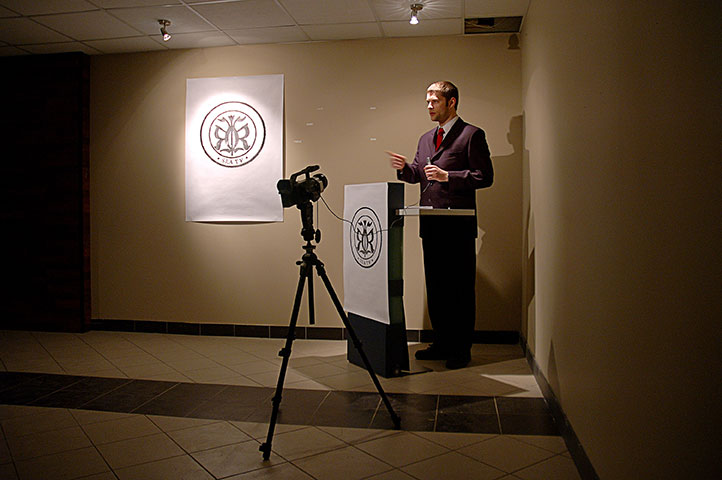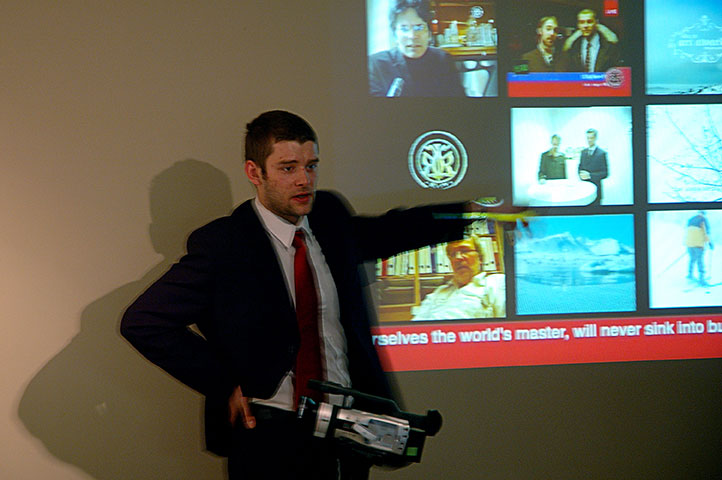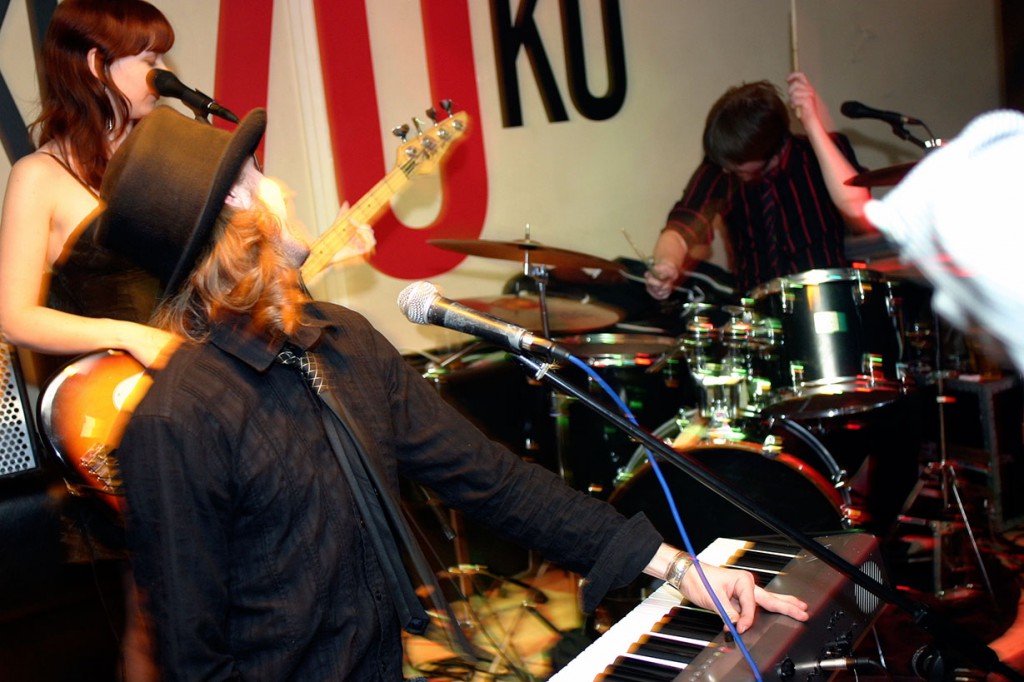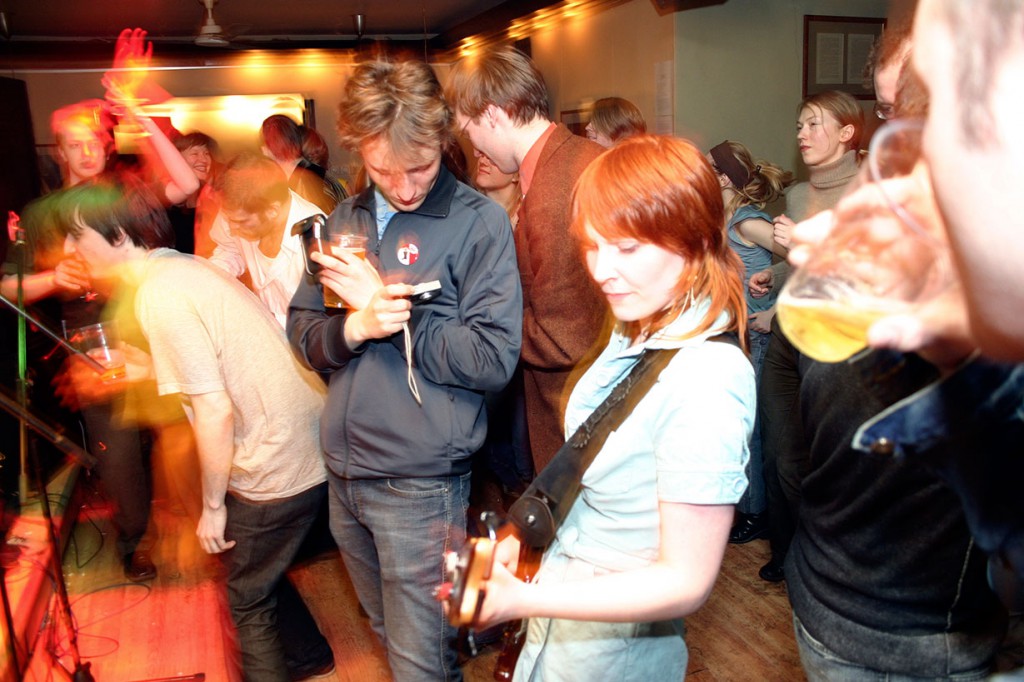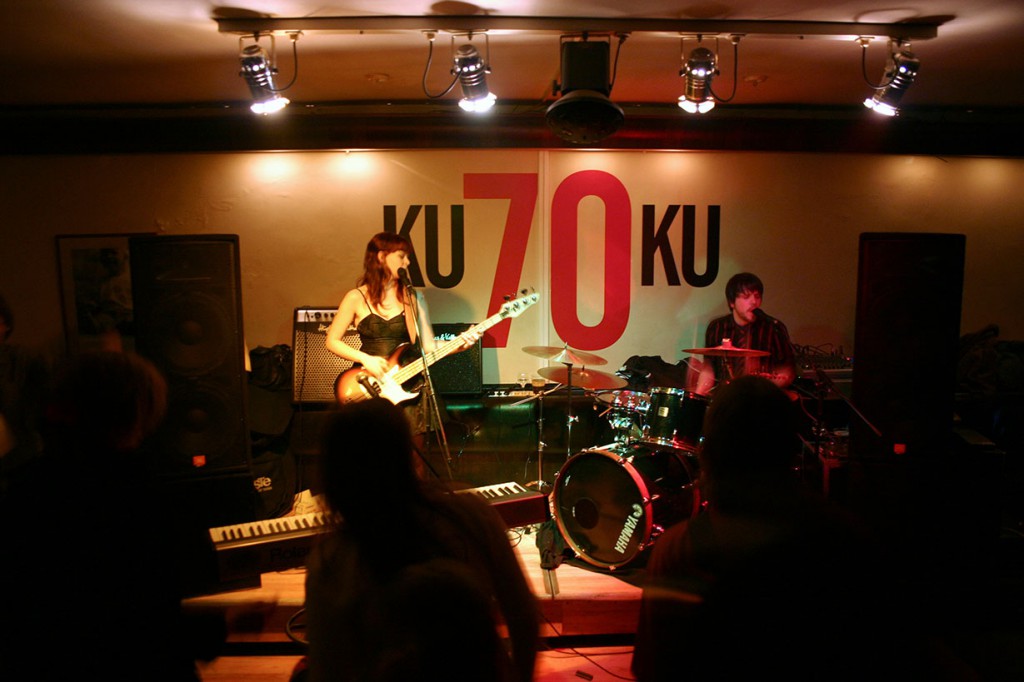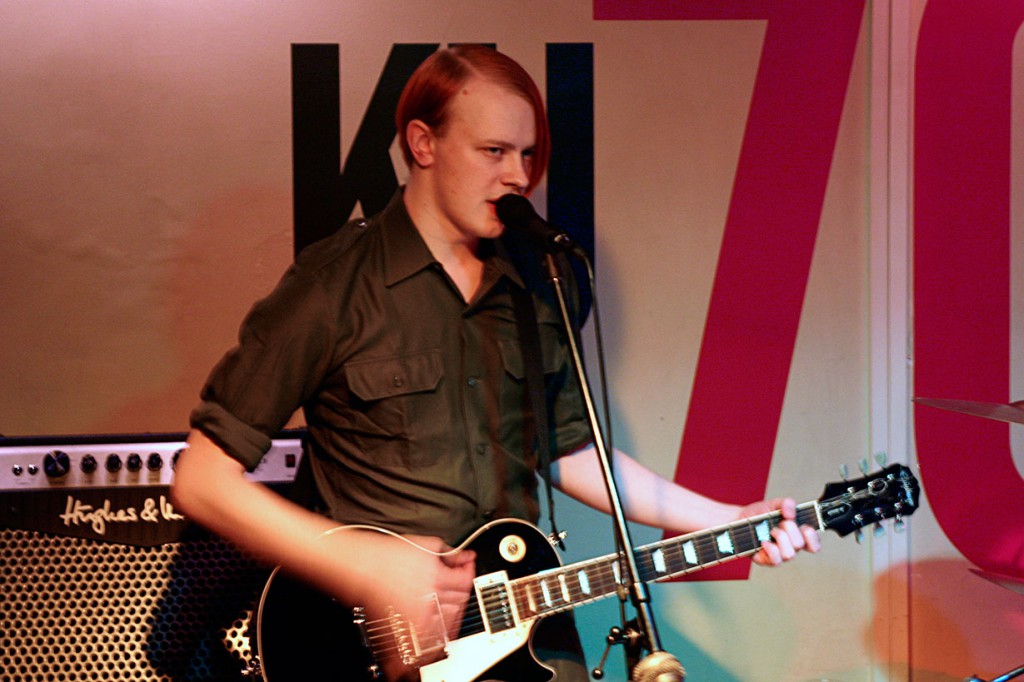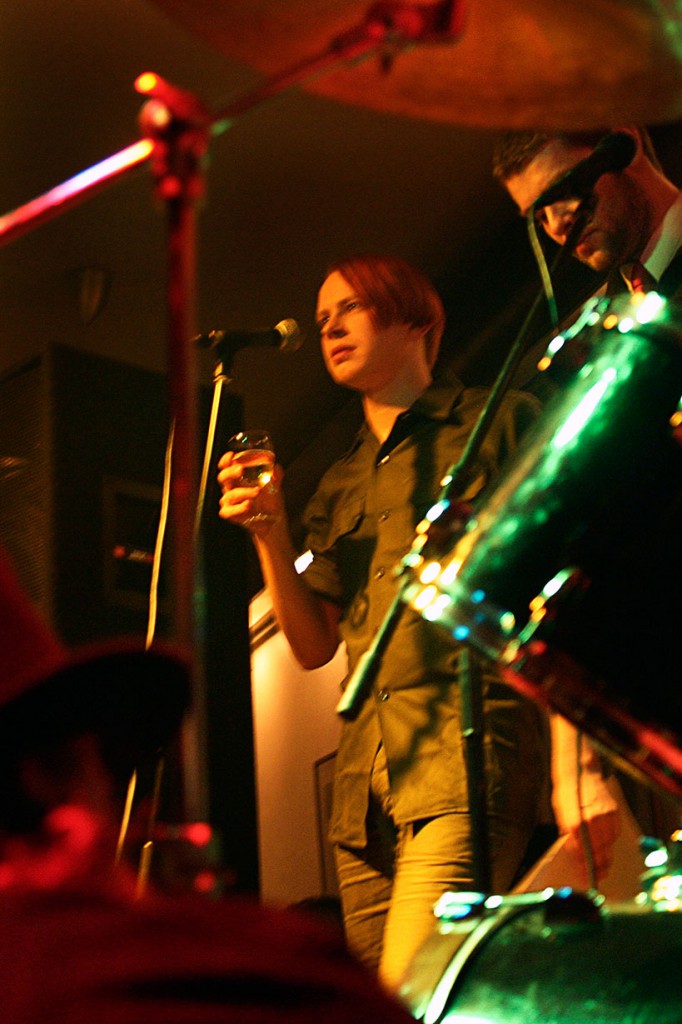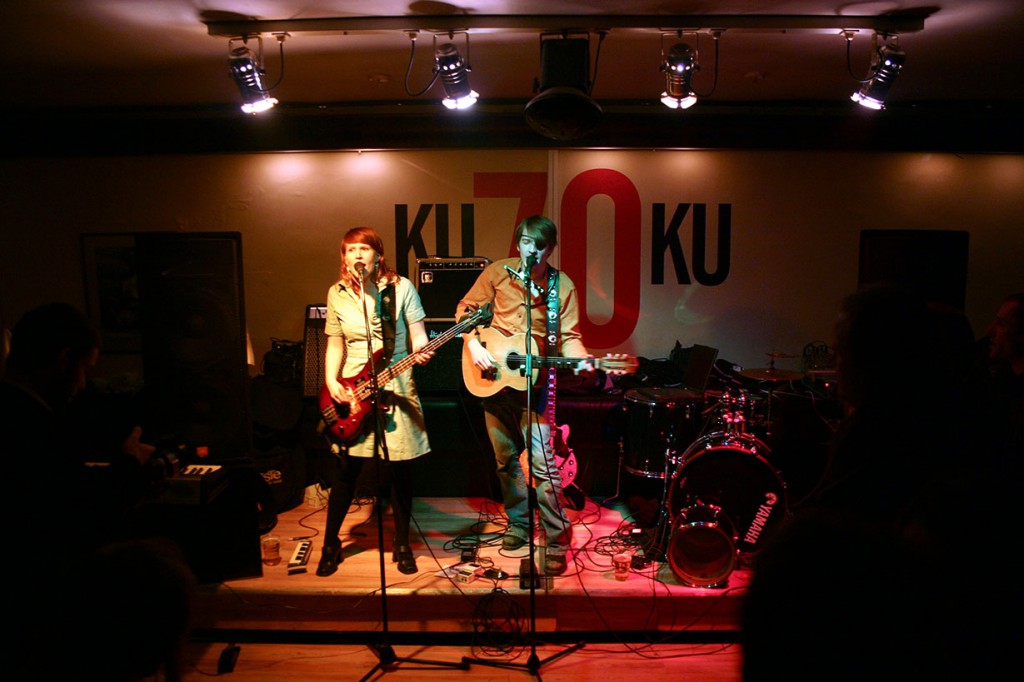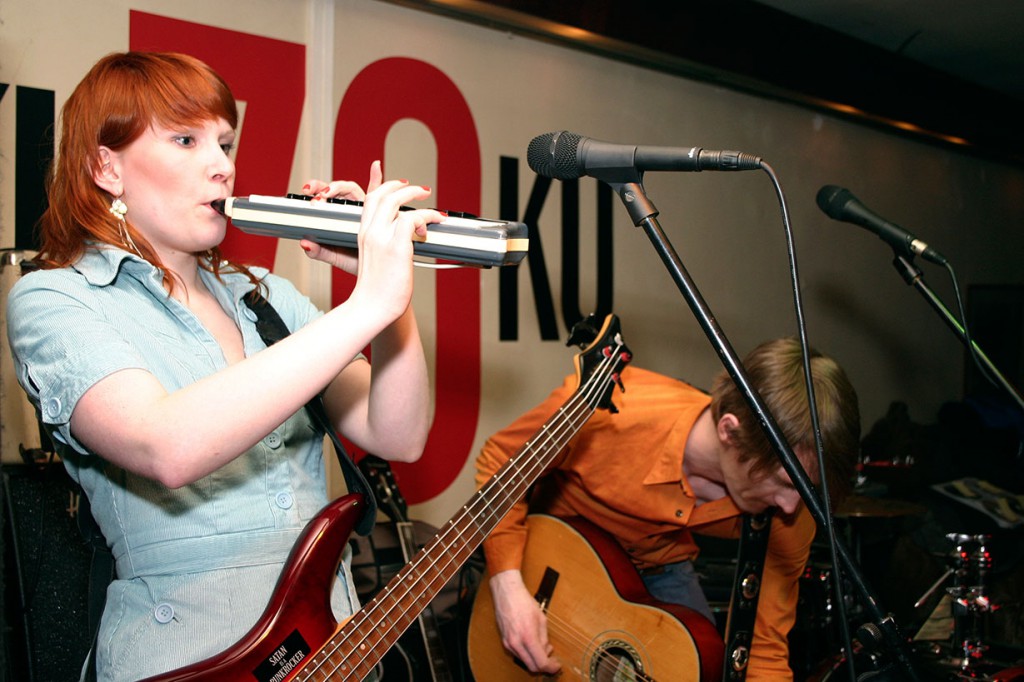 Part I, EKA galleri, Tallinn, Estonia
What constructs the Universe we live in? Or rather, what constructs the way in which we look upon the world? In (a Guide to) Constructing the Universe Part I Rakett presents young Norwegian artists with different approaches to this question, whether it is an exploration of the TV-medium, thoughts around religion and philosophy, or how the state makes plans and makes decisions that concern our daily lives.
In Sverre Strandbergs video The Survivor we recognize a style from the ubiquitous reality shows these days. The different figures that are typical in these shows, are all played by the same actor. The struggle for survival and our place in the Universe is being touched upon in these very familiar outbursts.
Power games on a more personal level is being described in Jaqueline Forzelius' video When I buy you (2005). Through the consumption of water, and the good cop/bad cop behaviour we can see the power positions in an intimate relationship come into play.
The state's role and power is described in Morten Torgersrud's work Murmanskrovaniemikirkenes. It consists of a number of photographs taken in these three cities, collected in a book. The photographs have no titles so it is only by the small details, like a road sign or a word that we can see from which city it is taken. These three cities were bombed or destroyed during the Second World War and then rebuilt in a similar manner. The work is presented as an installation with sound by Einar Sneve Martinussen.
Ivan Galuzin will through an installation and performance present SKATV which explores the TV-medium as a means of mediating contemporary art. SKATV is a media project initiated by Ivan Galuzin and Christian Bould, spring 2004. The project has artistic public ambitions on several levels: First of all it is an investigation of the powers of mass media, and how it influences public opinion. Theoretical research and social engagement gives the solid backbone to the production and practices of SKATV. In a year the artists have had four major productions, initiated two departments in Bergen and Trondheim, held several lectures and presentations. As a social sculpture it also serves a public function, since the artists themselves takes control over the handles of mass media meaning machine. The final goal of SKATV is to become a media conglomerate dedicated to the arts and culture, with critical and contemporary approach.
"May the bright flame of our enthusiasm never fade! It alone gives light and warmth to the enlightening practice of contemporary art. Its roots are in the people. The movement gives it direction and drive. The state can only provide it with the new, wide-ranging technical means. Only a living relationship between people, movement, and state can guarantee that the enlightening practice of contemporary art, of which we have made ourselves the world's master, will never sink into bureaucracy and bureaucratic narrow-mindedness."
In the video Playing serious (2005) Monica Winther and Kjersti Vetterstad play with sentences and structures borrowed from conservative Christian publications. In the video we get a feeling of desperateness and confusion, leaving it open whether this a parody or documentary.
A static image of a rather frantic face is the motif in Mikael Konttinens video Birth, but as we look closer the head is slowly moving from side to side in a strange manner that is putting our sense of perspective out of play. To further underline the disharmony, we can see in the next film Stasis (2005) a head chopped to pieces of what seems to be broken glass. All accompanied by a strange nerve-breaking sound.
In Jorunn Syversens video Untitled (2005) we see a young girl dancing on a beach. The images have an old atmosphere as it is filmed with super 8-film. The colors and images are beautiful and harmonious. As a voice-over we can hear a text read in Romanian. The text is very intimate and expressive at the same time it is set at a distance to the images, by the monotonous tone of voice.
Part II, at KuKu Klubi, Tallinn, Estonia
(a Guide to) Constructing the Universe (part II) is a concert event dedicated to the duo format where we have invited bands playing rock'n roll, drum'n bass, and disco country punk pop!
The new collaboration Bad Beuys will also have their first live show: a mesmerizing propaganda performance by Andres Löo, Terje Øverås and Ivan Galuzin.
Live Concerts:
Aurora Plastic Monster (no)
Girl from Saskatoon (no)
GyronV (no)
Bad Beuys (no/ee)
DJ´s:
Valner Valme (ee)
Andres Lõo (ee)
Christoph Höschele (at)
About the locations:
EKA Gallery is run by Karin Lansoo. It is currently located in a neighbouring temporary space due to the ongoing construction of a new building for the Art Academy of Tallinn.
KuKu Klubi has been open continuously for 70 years in a row and is considered the creators club in Tallinn located in the basement of Tallinna Kunstihoone at the Freedom Square.