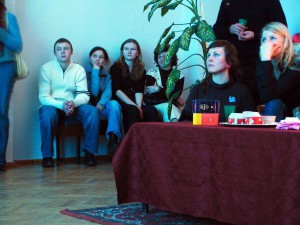 Domestic Cocoon Situation 
co-curated with Maria Rusinovskaya at Murmansk Art Museum, 2006.
This exhibition was presented in January 2006 as a satellite event to Barents Spektakel in Kirkenes. Domestic Cocoon Situation consisted of video works and a installation. Works by: Jorunn Myklebust Syversen: Burning love I and II, Mattias Härenstam: Supermarket and Hundekälte (Nächtes jahr wird noch kälter), Lilli Hartmann: Sing little bird and Marius Mørch: Guess it's our turn now. Rakett showed The Living Room, an installation part of the video program. The exhibition also included a site specific land art sculpture outside the museum by architect Jon-Martin Kolnes. SKATV (Ivan Galuzin and Christian Bould) was invited to produce reportages from the Rakett Satellite in Murmansk as well as the projects at Barents Spektakel in Kirkenes.
In conjunction with this exhibition Rakett organised Get Together, a live event with concerts by the musicians Mombus (Murmansk), Lia and Sebastian Meissner (Austria) and SKATV SOUNDSYSTEM (Russia/Norway).