Rakett will participate with a work for the exhibition Every Story Tells a Picture, organised by Michael Baers. For this occation the three artists Johannes Høie, Kjersti Vetterstad and Vanna Bowles have been invited to contribute in collaboration with Rakett.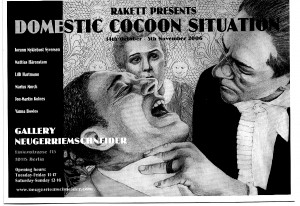 Rakett works often in the aim of being a platform for meeting, exchange and developing network. In our approach to the given task we have looked into the galleries' interchange or transfer of symbolic value from the artist to the gallery and the other way from the gallery to the artist. We wanted to imagine some of our earlier projects in galleries that focus on both up-and-coming and established artists in Berlin. The exhibitions that we have "moved" into Berlin have been realized in Murmansk, Tallinn and Madrid. The shows are transferred as fake shows for the selected spaces. We invited three artists to make the most convincing ad possible. We then printed them as postcards to reinforce their putative legitimacy. The postcards where distributed in different galleries all over the city.
Participating artists in the exhibition Every Story Tells a Picture:
Øystein Aasan, Michael Baers, Fucking Good Art (Rob Hamelijnck & Nienke Terpsma), Sasha Huber, Deborah Ligorio, Eoghan McTigue, Rakett in collaboration with Johannes Høie, Vanna Bowles and Kjersti Vetterstad, Petri Saarikko, Nicoline van Harskamp, Christine Würmell.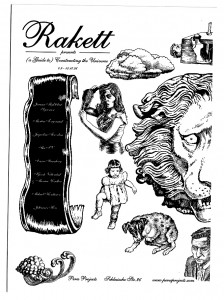 Text about the exhibition, by Michael Baers:
Graphic design, advertising, and publicity have different national histories and cultures which shape their professional identities. French sociologist Pierre Bourdieu described this as 'habitus', his term for ways of living and thinking which define social groups. Participants in the art world are also subject to a habitus. What occurs when these two fields interact? In a business where the disavowal of commercial intent is common and the act of buying and selling often appears parenthetical, the function of advertising and public relations in the art market often appears mysterious and paradoxical. What purpose do these practices play?
By appropriating aspects of advertising, publicity, and architectural convention, "Every Story Tells A Picture" seeks to interrogate the complex connection between the symbolic economy of art galleries, in which publicity and advertising play a crucial role, and the real economy of the art market. As a point of departure, a proposition was put forward—what would happen if the roles were inverted and artists were able to "represent" galleries? How would artists themselves design gallery print ads? Some artists responded with ads of a speculative nature. Nicoline van Harskamp appropriated the T-mobile house graphic style in her advertisements, the Norwegian curatorial team, Rakett, write themselves into the Berlin art world by situating shows they have curated abroad within this local context, and show organizer Michael Baers has created a series of public service announcements hosted by several Berlin galleries. Employing strategies of inversion and reversal, others enlarged the proposition with works concerning the architectonic conventions of gallery space, the linkage between fine art and corporate instrumentalization, and the way interviews, press releases, and other modes of public relations have come, both inside and outside the art market, to function as "hard" news content. Eoghan McTigue has reversed the orientation of Sparwasser's window and door, while the Dutch collaborative, Fucking Good Art, will install photo wallpaper depicting a gallery reception desk in situ. Øystein Aasan's collages of press clippings and exhibition documentation undermine the status of primary and secondary information, Deborah Ligorio's videowork considers the normative practices of project spaces as they relate to dominant commercial paradigms, and Christine Würmell's work is a subtle and strategic deployment of corporate and gallery advertisement strategies. With works that investigate the empirical and discursive dimensions of the commercial art market from many angles, "Every Story Tells a Picture" attempts to illuminate the complex nexus of issues related to the art market's public relations strategies, and by extension, how these strategies pertain to capitalism and the concept of the speculative market in general.