Curating Degree Zero Archive have left Bergen and started its journey across the Atlantic Ocean towards the city of Dublin. Visit the official CDZA site if you would like to follow its future travels and adventures.
www.curatingdegreezero.org

Texts, pictures and sound recordings from our events during CDZA stay in Bergen are now available on the Previous page. More to come.

Rakett presents Curating Degree Zero Archive in Bergen has successfully been realized because of great support and help from Rakett's friends, colleagues and participants.

Biggest Thank You's to:
Jon Martin Kolnes, Kari Anne Østrem, Stefan Mitterer, Dorothee Richter, Anne Szefer Karlsen, Sveinung Unneland, Hilde Jørgensen, Héctor Pina-Barrios, Espen Sommer-Eide, Odd Øyvind Fjelldal, Jan Landro, Hilde Sandvik, Kari Fauskanger, Henk Slager, Kjetil Kausland, Christer Hjelmeland from Stiftelsen Bryggen, Festningsforvalter Viggo Roy Gulstad from Bergenhus Festning, Yvette Brackman, Mai Lahn-Johannesen, Sissel Lillebostad, Flaggfabrikken, Øystein Hauge, Paula Crabtree, Turid Sundfjord, Jeremy Welsh, Peter Mitterer, Einride Torvik, Borghild Unneland, Geir Tore Holm, Hilde Jørgensen, Søssa Jørgensen, Yngvil Færøy, Ole Kristian Øye, Hector Kirketjeneren ved Jakobskirken, Wachtmeister at the University, Franz Pomassl, Anna Ceeh, Solveig Øvstebø, Steinar Sekkingstad, Stein Inge Aarhus, Daniel Stockhaus, Morten Kvamme, Mai Morten Torgersrud, Anne Lilja Berge Strand, Andrew Cannon, Annette Schemmel, Camila Marambio, Magdalena Ziolkowska, Maaike Gouwenberg, CTRL+Z, Torill Johannsen, Parkerings Etaten /Arvid Heggestad, Policeman Karsten Kalsås, Ellen Karin Nordhus v/Grønn Etat, Evelyn Holm, Annelin Haavik /Honda Norge, Liesbeth Bik and Jos Van Der Pol, Marte Johnslien, Steffen Håndlykken, USF-Art Space, Evy Sørensen, Åshild Grana, Trine Hylander Friis, Matt Packer, Ann Demeester, Helga-Marie Nordby, Arne Skaug Olsen, Olaf Knarvik, Qiu Jun, Ulf Styren, Pedro Gómez-Egaña, Siri Austeen, Hege Tapio, Barnaby Drabble, Øyvind Pål Farstad, Petter Lidahl + all our daily visitors.
To the Rakett Fanzine contributors: Thank you for responding to our questions and lending us your thoughts on collaboration and curating.

Special thanks to Stein Inge Aarhus at Landmark, Bergen Kunsthall, Petter Lidahl at Bien Bar and Mari Aarre at Hordaland Art center to generously trust and lend us their spaces.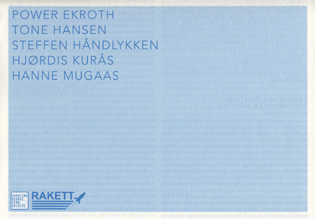 In collaboration with CTRL+Z Publishing house, Rakett has commissioned and released a collection of essays. Contributions by Tone Hansen, Hjørdis Kurås, Power Ekroth, Hanne Mugaas and Steffen Håndlykken can be found in our Rakett Fanzine and is currently for sale at UKS in Oslo. You can also order it directly from Rakett.